PASSION, VISION, AMBITION.
TOGETHER UNDER ONE UMBRELLA
ABOUT US
━━━
With businesses ranging from F&B to real estate, Al Bidayer was founded by Sheikh Mohammed Saud Sultan Saqer Alqasimi to consolidate his investments since 1996, starting with the Dunkin' UAE franchise, which opened its first store in the nation 25 years ago.
Today, you'll find Al Bidayer headquarters in the heart of Sharjah, which the holding company is proud to call home.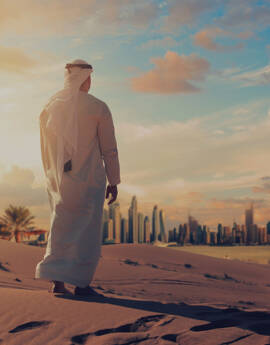 Our story
This is a story that began with a passion to bring happiness into people's lives. A story inspired during a trip to the US where the founder first discovered Dunkin', the brand that at the time was already much loved and popular, refreshing people's days, energizing them and spreading positivity with great coffee and donuts at affordable prices that made it an accessible and inclusive brand.
The founder wanted the same for his home country and his people, and in 1996, his vision to bring them happiness became a reality, with Dunkin' UAE opening its first store in the UAE to the delight of residents and citizens of the nation. And since that day decades ago, Dunkin' continues to engage, inspire, surprise and bring joy to visitors every day.
The founder later invested in other F&B businesses that focus on the Horeca and FMCG channels to add to his existing F&B investment portfolio.
The founder and his family also own several built-up real estate projects in addition to a land bank that is ready to be developed, enabling them to be part of the effort put to build the nation.
© Copyright 2023. Albidayer Holding, All Rights Reserved